About
Caregiver Services support African American and East African older adults and their caregivers through support groups, health monitoring and education, and respite care. Adult caregivers or informal providers of in-home and community care are eligible for support, so long as they are caring for an adult 60+ years of age or an individual (of any age) with Alzheimer's Disease and Related Dementias.  
Eligibility
Genders served
All genders
Payments accepted
Caregiver support and education services are free to participants; Healthcare services with our Community Health Workers are eligible for Medical Assistance and Elderly waiver, Community Access for Disability Inclusion (CADI) waiver, and Alternative Care (AC) waiver.
Honoring and supporting caregivers and older adults  
Caregivers play a crucial role in fostering the health and well-being of the people in their care. When caregivers are supported, the people they care for are better served, often staying in their communities longer. Our service specialists collaborate with the families they serve to develop an individualized plan to support the needs of both the caregiver and the person in their care.  
Being a caregiver can feel overwhelming at times. Our team connects African American and East African caregivers with resources and offers guidance navigating healthcare systems, working to create networks of support that help them overcome everyday challenges. Though our team's specialty is Alzheimer's Disease and Related Dementias, they also offer coaching to guide people toward healthy aging. 
African American and East African caregivers may experience distrust of doctors due to historical trauma, racial inequities in healthcare, and/or cultural and language barriers. Our service specialists are reflective of the communities they serve and can help break down barriers to support the needs of the whole family. Our team strives to meet residents where they are, serving people in their homes and communities. And what we know is that a focus on culture can improve health outcomes and overall well-being. Bilingual team members are available to meet the language and specialized cultural needs of Somali and Oromo clients.   
Every person is unique, which is why we never use a one-size-fits-all approach. Our service specialists respect the experiences and wisdom of the people they serve and keep each individual's voice at the center of their own care. Services are tailored to the family's individual needs and with respect to the level of care they prefer. 
Services may include: 
Respite care 
Family counseling 
Problem solving 
Financial and legal counseling 
Coordination of information, support, and practical assistance 
Health screenings 
Funders

"Any resources we needed, call Dorothea. 'I might not know the answer but hold on. I'll get you the answer,' she'd say. She would always point us in the right direction. I wouldn't have made it without Dorothea. Our family wouldn't have made it." 
-Anthony 
"We're lucky there are four of us to share the responsibilities," Kelly says. "It's up and down with Pops. Sometimes he's aware but often he's not." 
Tony, Craig, Karen, and Kelly have cared for their 86-year-old father for two years, since he was diagnosed with dementia. He still lives in the family home, surrounded by love and memories that come and go. 
Dementia is a growing public health concern across the U.S. but rates for racial and ethnic groups are rising most quickly. Volunteers of America Minnesota and Wisconsin's culturally responsive Caregiver and Dementia services are part of the answer. We are dedicated to helping older adults live safely and happily at home for much longer. 
Our approach brings support and real-life solutions to dementia care at home. Kelly and Karen have attended our free support groups and have invited staff to visit in Pops' home. "It's made a big difference," Kelly recalled.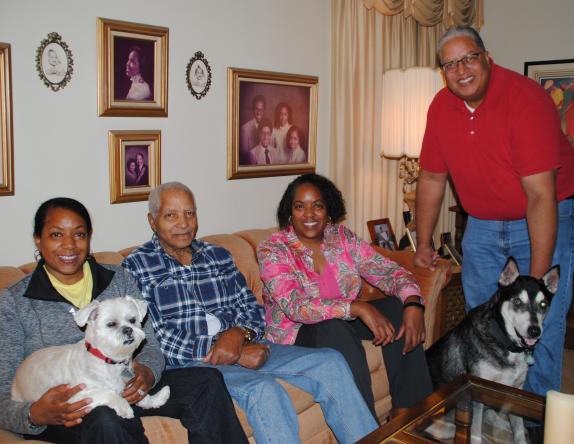 Funders