About
Bar None Omegon provides intensive, therapeutic, and residential care to adolescent males who are experiencing serious mental health and/or chemical issues. This setting is typically appropriate for children and adolescents that have tried outpatient services and are unable to be supported at home or in their community due to their mental or chemical health needs. Bar None Omegon can provide time and space for young people and their families to heal and rebuild.
Eligibility
Payments accepted
Funding for participant placement is typically received through state/county social services, or private medical insurance.
Specialized Treatment for the Whole Person 
Helping adolescents find a path forward to mental and chemical health 
Everyone needs help sometimes and seeking help is a sign of resiliency and strength. Families often come to Omegon for their teenaged loved one after expensive outpatient therapy, and sometimes hospitalization after chemical use crises, suicide attempts and self-harming behaviors.  
Omegon's staff are experts at building well-being and offer one of the few places in the region capable of helping residents find their path through both chemical health and mental health issues. 
Omegon is a longer-term treatment program designed to meet the needs of the resident. When possible, families play a large role in the treatment model are are supported in their contributions to help their loved one recover. Care and consultation after leaving Omegon is also an important offering for many residents and families.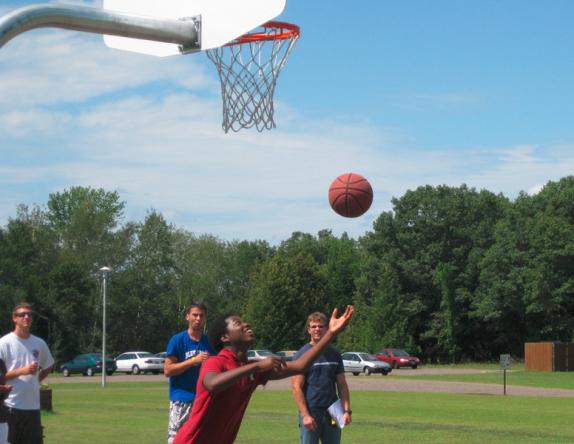 Every person is unique, which is why we never use a one-size-fits-all approach.  At Omegon we work with each person to determine what services are needed, create pathways to access needed services, and coordinate with all the individual supports to ensure the services work effectively together.
Services We Provide
Milieu Therapy
Family Therapy
Individual and Group Therapy
Chemical Health Groups
Individual Chemical Dependency Counseling
Medication Management
Psychiatric Services and Consultation
Educational and Recreational Programs
Nursing Services
Aftercare Services
A few of the faces at Bar None Omegon
"I found the atmosphere welcoming and am very pleased with the chemical dependency and mental health services. I would definitely recommend Omegon to others because I always knew what was going on and the staff understood my client and needs well. Keep up the good work!"
-A referral partner
Commonly Asked Questions
Young people often come to us after experiencing life threatening and high-risk behaviors that present with issues such as: mood and behavioral disorders including depression, low self-esteem, disruptive behaviors, substance abuse, chronic failures in homes, school, and community 
Bar None - Omegon's program focuses on Cognitive Behavioral Therapy – identifying unhelpful belief systems helping to create healthier behavior patterns. Clients participate in a variety of regular groups and recreational programming. Facilitated community meetings focus on developing problem-solving skills, conflict resolution, and daily life skills. 
Bar None – Omegon is a 4–9-month program.
Bar None – Omegon is located in a rural setting on a lake about 45 minutes north of Minneapolis. The facility accommodates 24 adolescents and features spacious living areas for therapeutic, educational, and indoor recreation programming, as well as administrative functions.